I began baking in the kitchen before I was old enough to read. I frequently spent time with my Mom and Meema learning how to bake and made quite a mess while doing so! Growing up in New Jersey with an Italian and Peruvian background exposed me to a wide variety of tastes and flavors, and I often experimented incorporating these into my recipes! Over time, my hobby transitioned into my desired career path. In fifth grade I dreamed of attending culinary school at Johnson & Wales University in Providence, RI. Until then, in middle and high school, I participated in baking competitions and tested recipes for friends and family!
The only college I applied to was Johnson & Wales University; there was no other option! I was accepted, and in 2014, I began my first year as a baking and pastry student. Alongside my education, I worked at local bakeries and businesses to gain additional experience. After graduating with my degree in Baking and Pastry Arts and Food Service Management, I received my Master's degree in Business, in hopes of someday starting my own business.
While I was at school, my family relocated to Greenville, South Carolina. While I enjoyed living up North, I missed my family and struggled to find a job I loved up there; as a result, I decided to move down to South Carolina as well. Career-wise, it was a difficult move at first – South Carolina did not have many scratch bakeries like in New Jersey. At first, I felt limited in my options to work in my desired field. I began baking for a local college and was looking for another job to make some extra money. Out of curiosity, I emailed Kathy, the owner of Kathy and Company, to see if she was hiring.  She responded that she was taking the year off and was looking to sell her business. This response piqued my interest and I decided to meet with her. My meeting with Kathy lasted for hours; I was inspired by her culinary journey, career, and stellar reputation in the Upstate area. She decided to retire in order to spend more time with her family and was looking to sell her business to the right person. At this moment, all the pieces started to fall into place.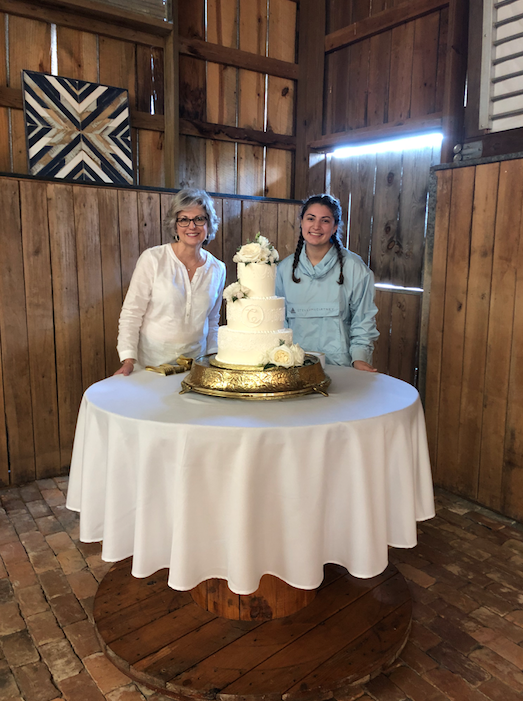 I became the new owner of Kathy and Company, which is now Kathy and Company featuring Allessa. My greatest dream has already started coming true at age 24, even in the midst of a global pandemic! All at once, my life was changing quickly and drastically, but I knew it was meant to be. Kathy and I worked to reopen the business, and we reached out to the vendors in the wedding industry to spread the word. What we thought was going to be a slow re-open, was totally the opposite. Cake orders were coming in left and right!!
As my role of the new owner, I will still be using Kathy's time-tested recipes that customers rave about! I am excited for the future of Kathy and Company featuring Allessa; I will carry on the brand's tradition of excellence and quality, while offering the same renowned customer service. My vision is to continue Kathy's thirty-year legacy and retain her reputation in the Upstate area. I wish to impress customers with her delightful recipes while advancing the company with my unique touch.  I am so grateful to have met Kathy and that we crossed paths when we did.
In meeting newly engaged couples, I am inspired by the love stories leading to the wedding events. Together with these couples, I am using my artistry and baking abilities to create amazing memories with them. Through my patience and ability to collaborate, we have designed many unique ideas to memorialize their relationships. I look forward to dreaming with you as we embark on the journey of creating long lasting memories together.